We have inherited many legacies from WORLD WAR 1, "THE GREAT WAR FOR CIVILISATION" - "TRENCH ART" is one such legacy.......

Individual souvenirs and trophies of combat usually emerge from any war, but during World War 1 "soldier artwork" became its own art form, due to mass production of items by the vast numbers of the participants of the war.

Items were defined as "trench art" after a WW1 French newspaper competition awarded prizes in a competition for the most creative objects crafted from battlefield debris, by -
"the craftsmen of the trenches" or "artisanat de tranchées"

Found in many forms and sources: the Army, Navy, Submarines, Flying Corps, Auxiliary Services, Chinese Labour Corps., Rest Camps, Engineering Depots, Behind-the-Lines workshops, Prisoners-of-War, Wounded or Disabled Servicemen, Civilian artisans, French & Belgian cottage industries, Field Blacksmiths, and the jewellery trade. Commercial "Souvenir Workshops" also contributed, supplying demand from UK and foreign Stores for military memorabilia whilst in the United States, ammunition surpluses were mass-turned into commemorative items.

Individual and unique pieces were often crafted on a made-to-order basis for combatants to commemorate their war experience, maybe for a loved one or family member....or sometimes commissioned by the family as a memory item for a life sacrificed. Mass produced items were made for visiting battlefield pilgrims or tourists, also many designs fashioned well into the 1920's and the art noveau period. Genuine relics discovered to-day are around 100 years old, and have survived the trauma of previous decades when metals were highly sought-after for munitions or other industrial needs.

This site opens a glimpse into a world of unusual and emotional memory souvenirs, crafted from battlefield debris - bullets, shells, shrapnel, mines, with naval and zeppelin relics, aircraft debris, brass, copper, wood, bone, beads, leather, bakerlite, stone, clay, resins; in fact, whatever the human soul fashions when called upon by Fate, to face an immediate and uncertain path....
You may like to view other pages about Trench Art (and the Great War itself) - Click on the "SITE MAP" at the very end of this page, below: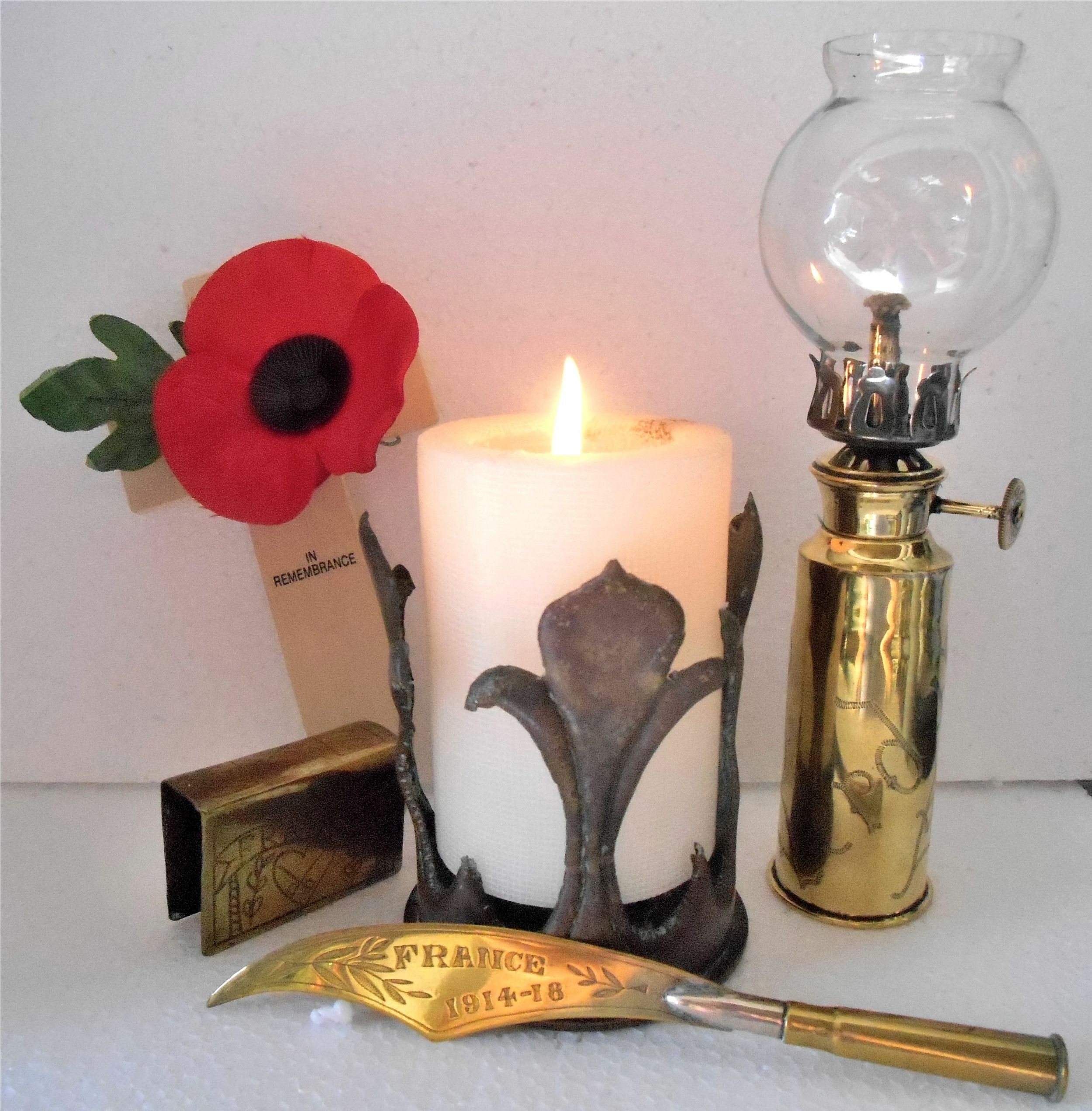 <<< REMEMBRANCE OF WW1 - IMAGES >>>

Below: Tower of London "Weeping Window" of poppies (2014)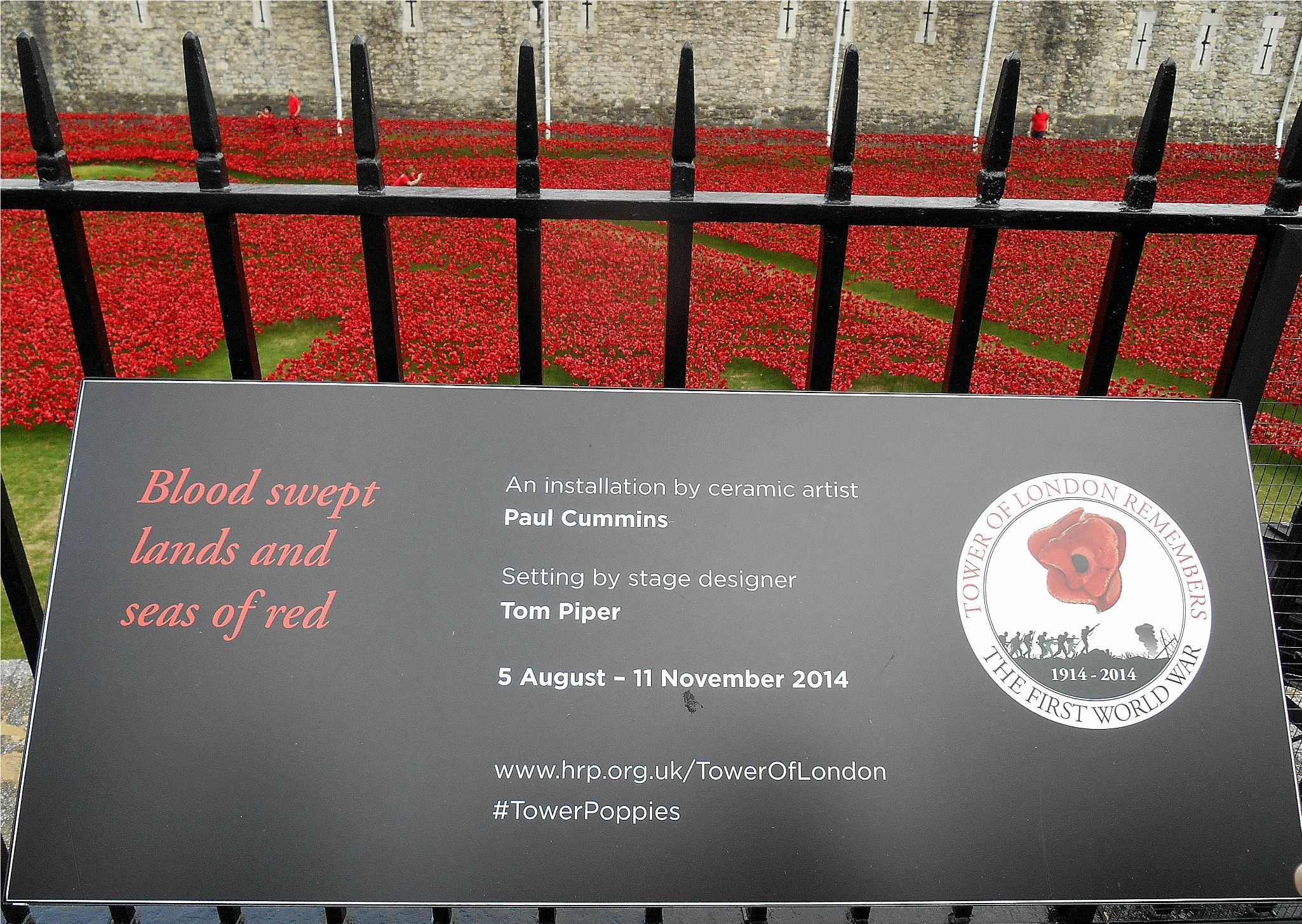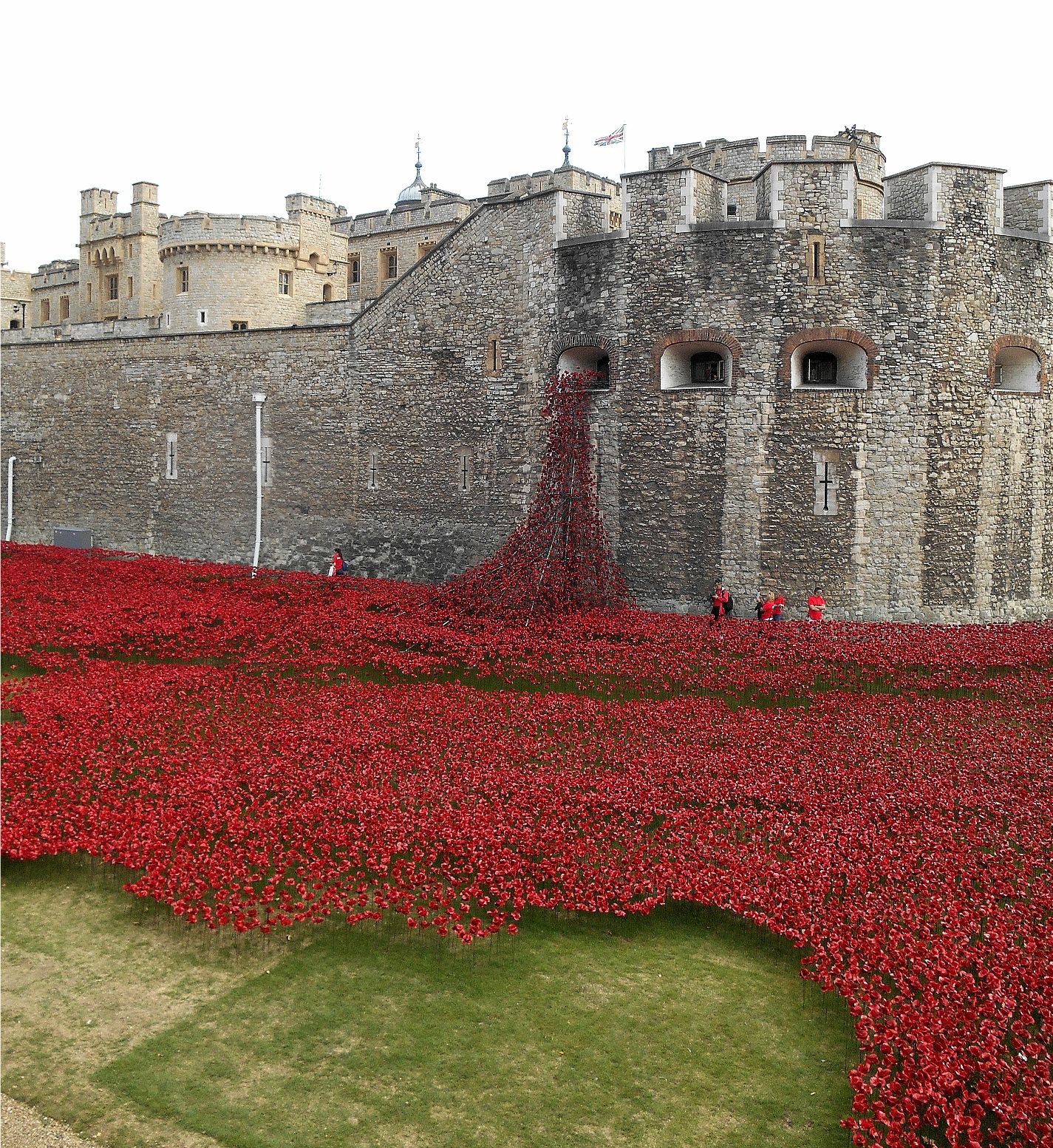 Below: Yorkshire Sculpture Park's " Wave" - with the iconic poppy sculptures (2015)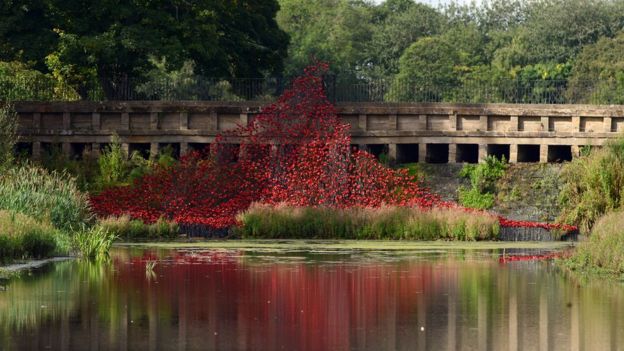 Below: Woodhorn Museum's "Weeping Window" - with the iconic poppy sculptures (2015)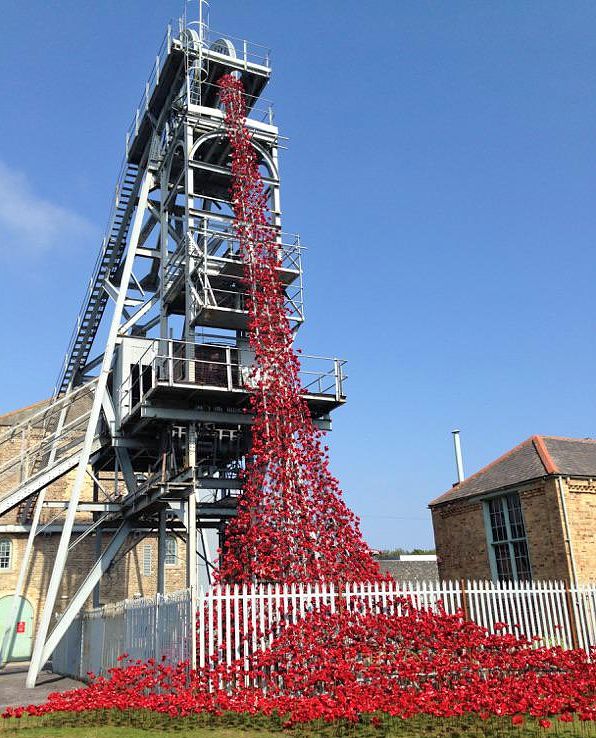 Below: Liverpool's St. Georges Hall - with the iconic poppy sculptures (2015)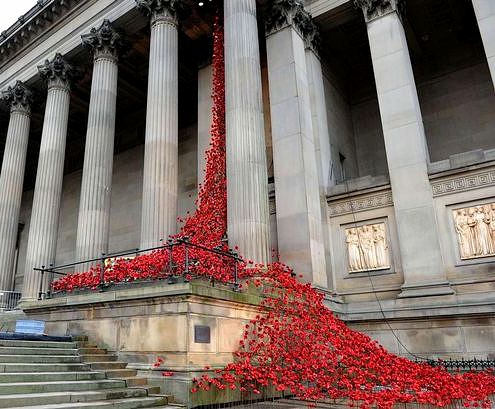 Below: St Magnus Cathedral, Kirkwall, Orkney Islands (2016) (image by Linda Cameron)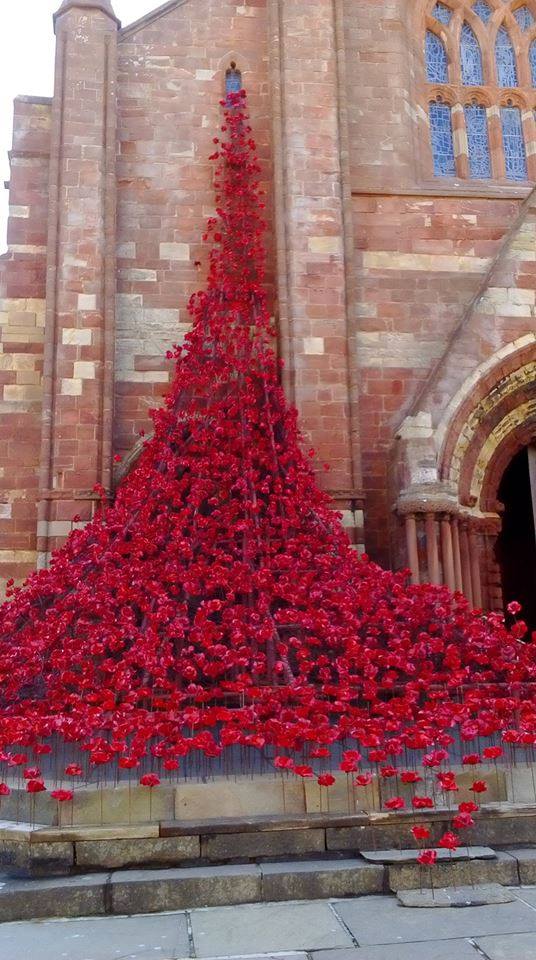 Below: Lincoln Castle with the iconic poppy sculptures (2016)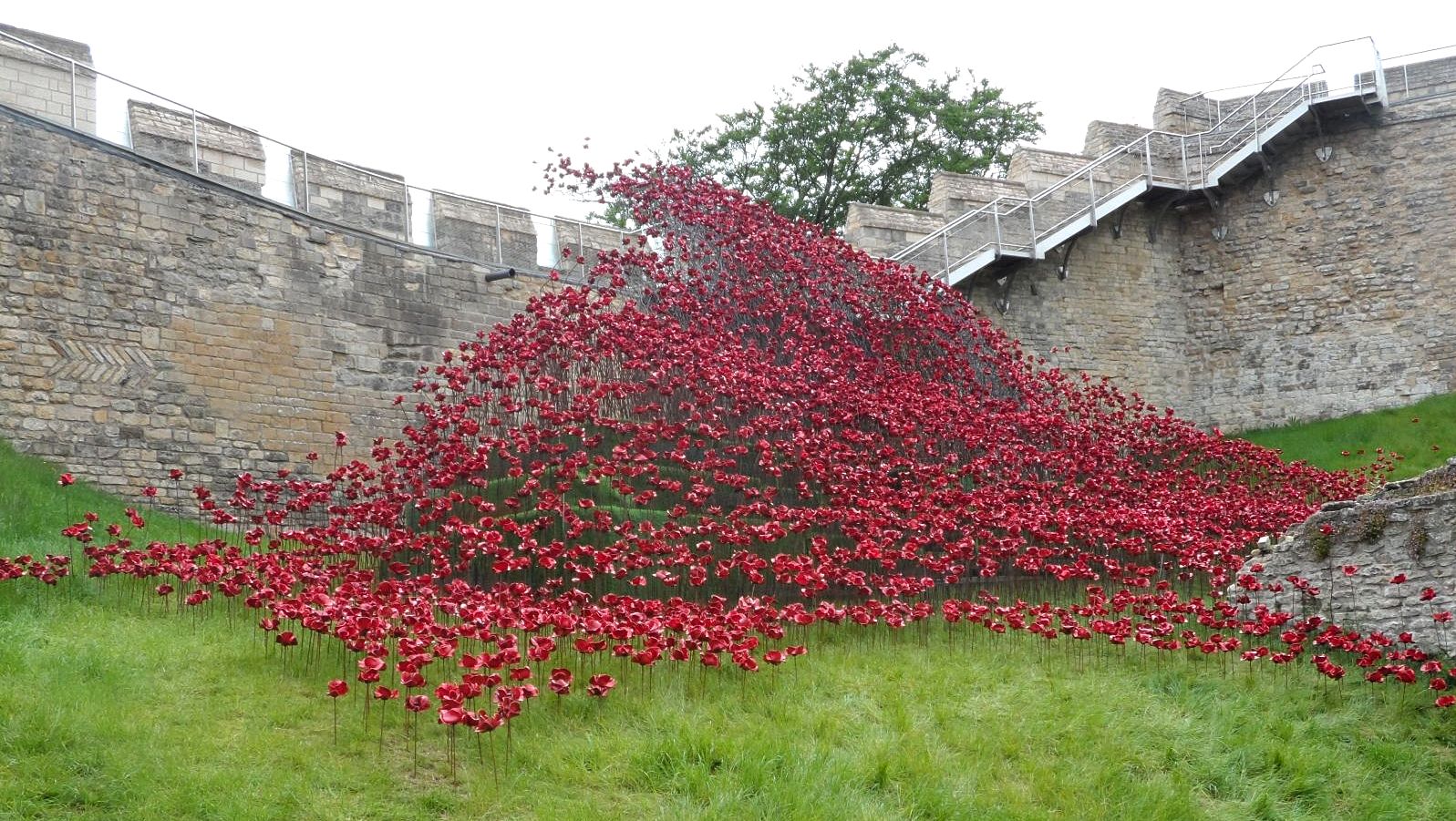 Below: Black Watch Castle, Perth, with the iconic poppy sculptures (2016)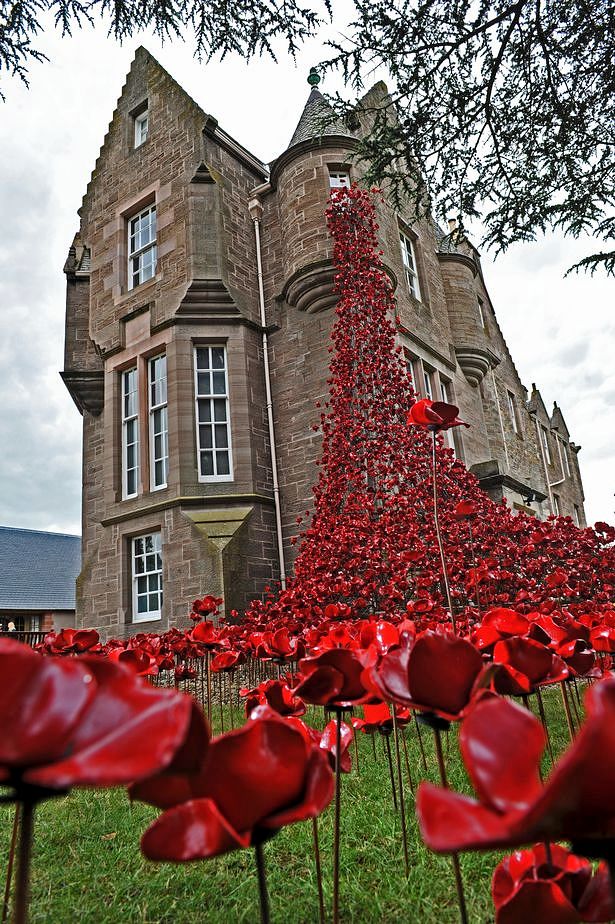 Below: Caernarfon Castle, with the iconic poppy sculptures (2016)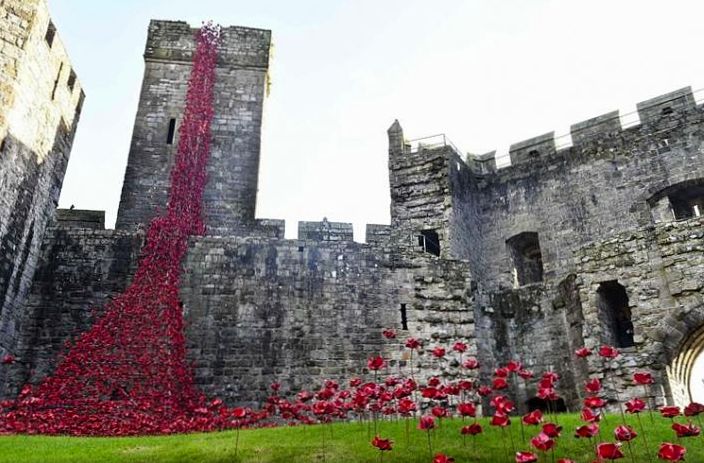 Below: Barge Pier, Shoeburyness, Southend-on-Sea, with the iconic poppy sculptures (2017)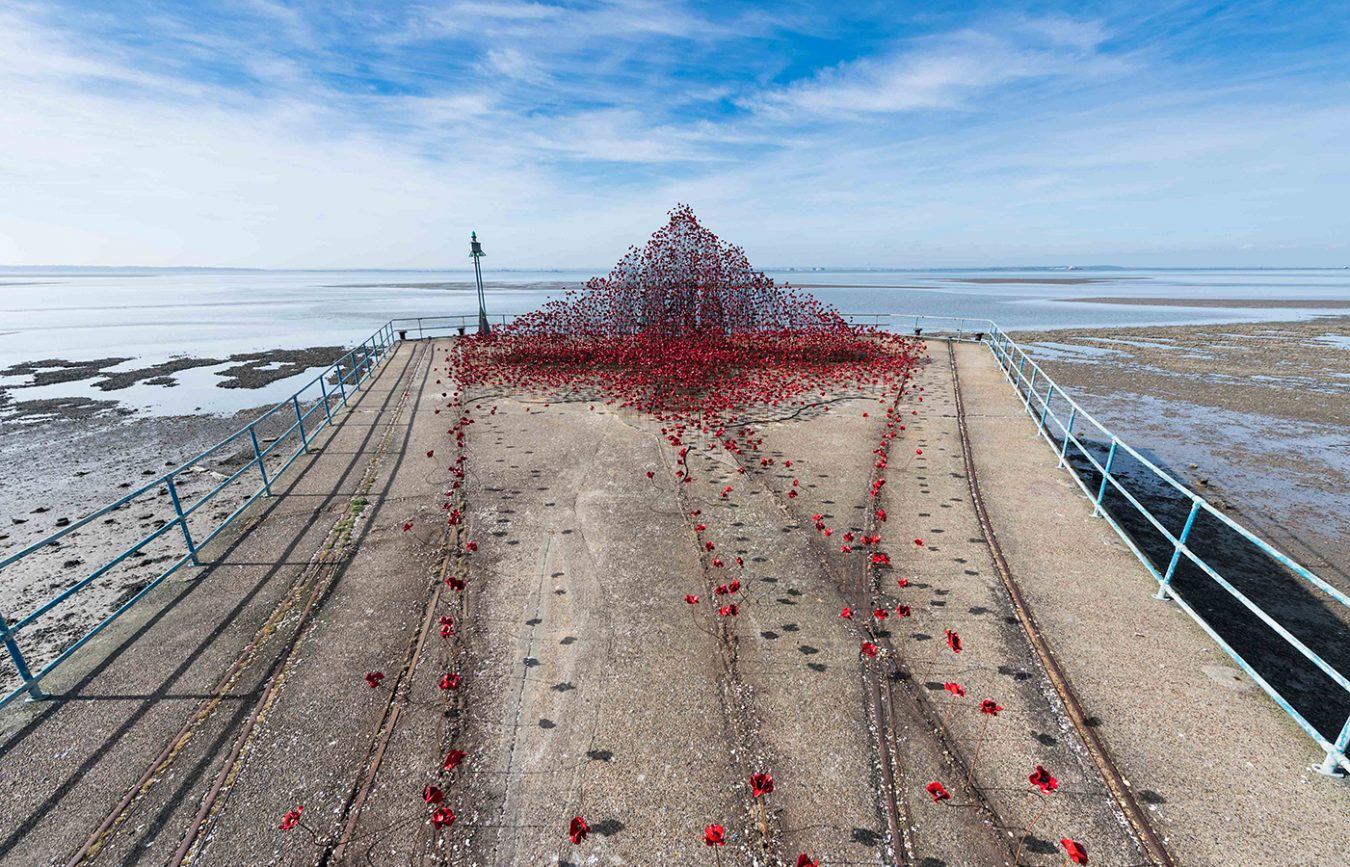 Below: Hull Maritime Museum, with the iconic poppy sculptures (2017)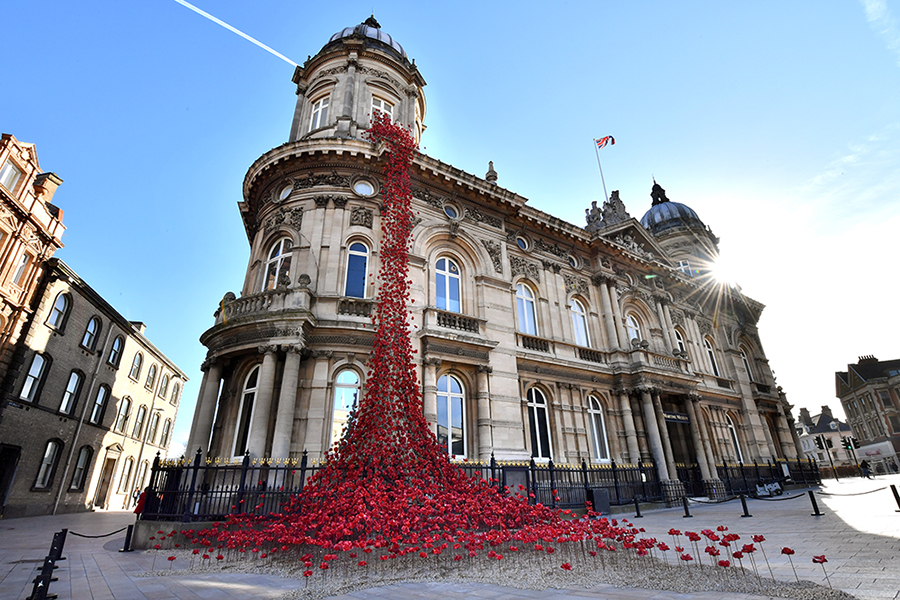 Below: Derby Silk Mill, with the iconic poppy sculptures (2017)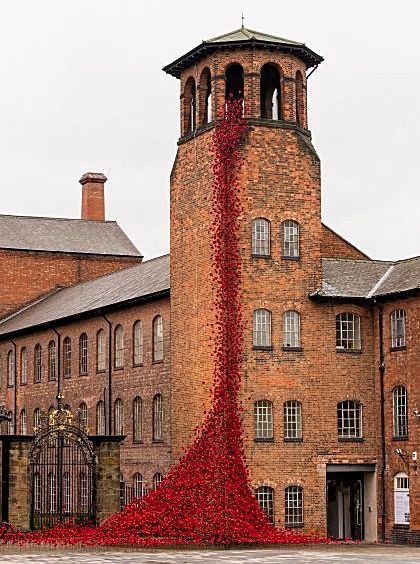 Below: Armistice Day, London. 11.00 a.m. 11th November 2013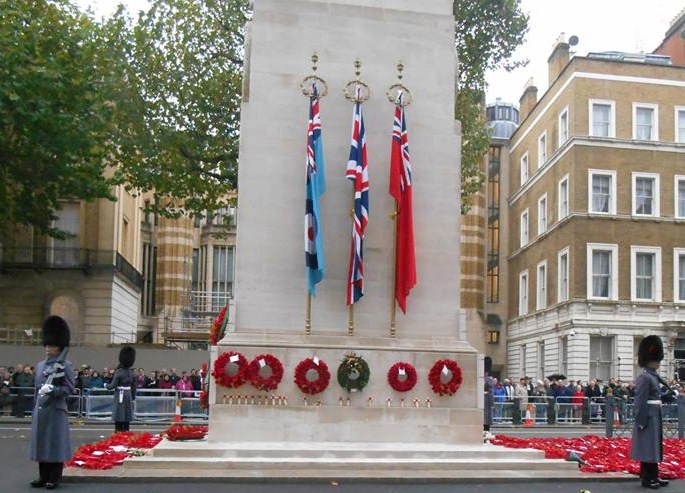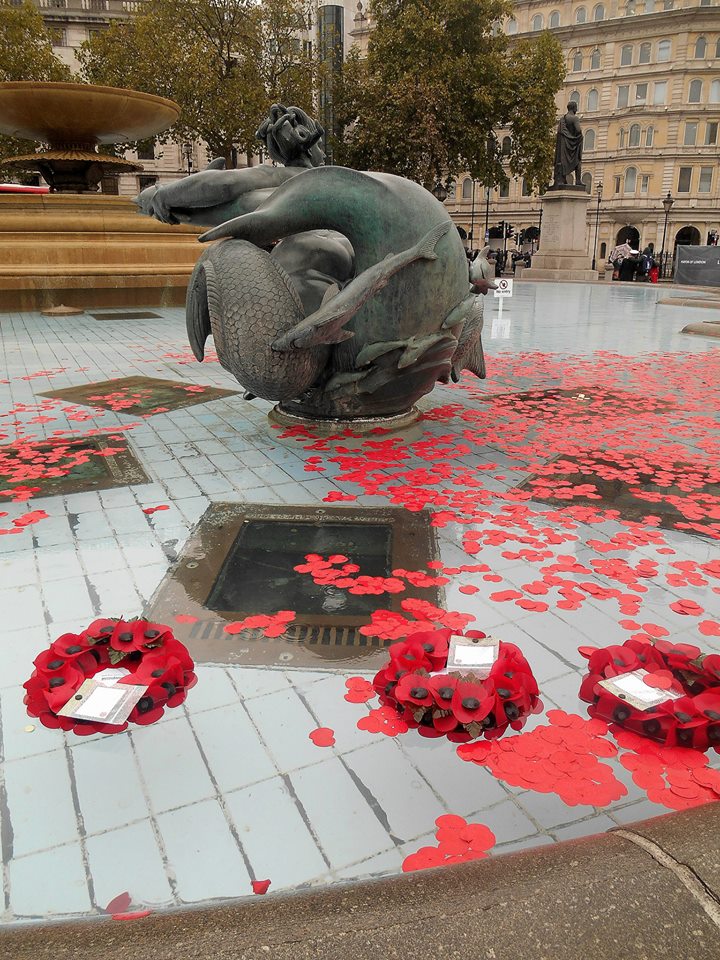 Below: Cenotaph, London 2014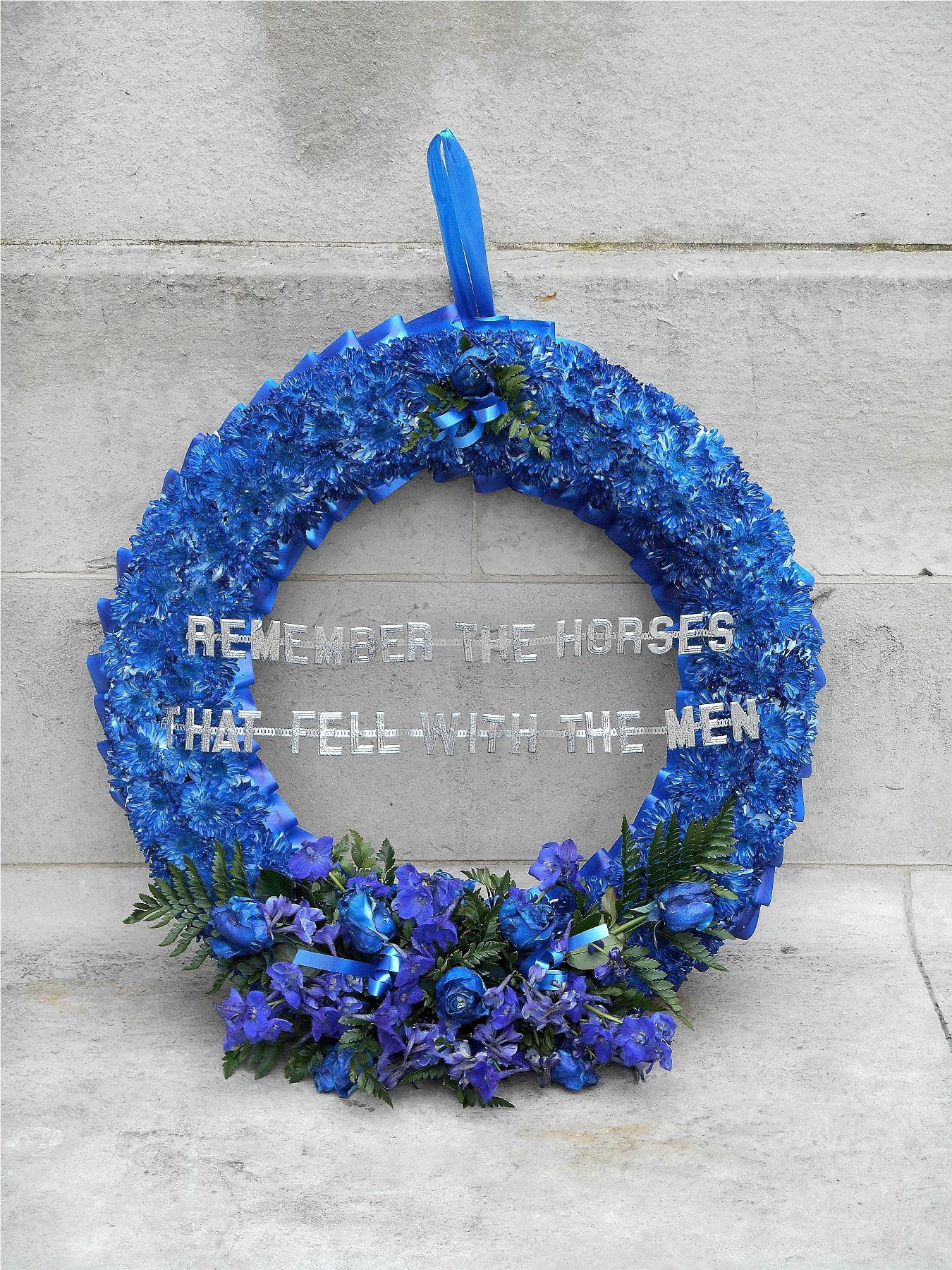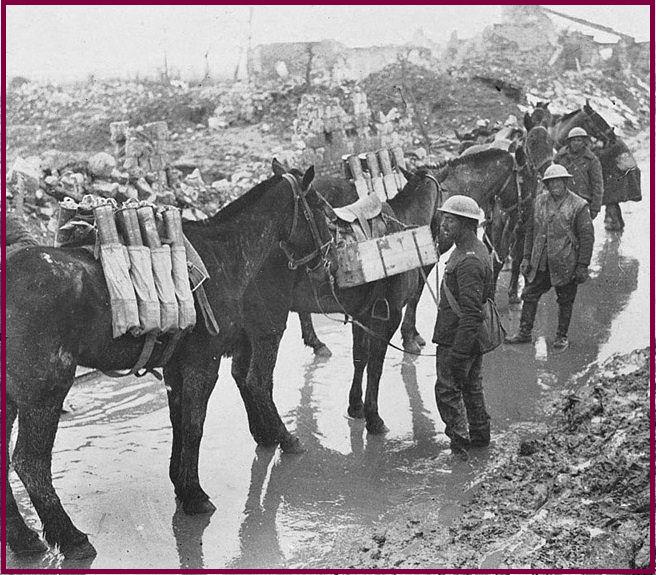 Below, the PDSA Dicken Medal, presented posthumously in September 2014 to the war horse "WARRIOR", the first honorary medal ever presented in the veterinary charity's 97 year history. In recognition of the gallantry showed by all the animals that served on the frontline during WW1, and received by Brough Scott, grandson of Warrior's owner and rider General Jack Seely. (After arriving on the western front on 11 August 1914 with Seely, Warrior stayed there throughout the war, surviving machine-gun attacks and falling shells at the battle of the Somme. He was dug out of the mud of Passchendaele and was twice trapped under the burning beams of his stables, surviving many charges at the enemy and proving an inspiration to the soldiers he was fighting alongside.)
The PDSA director general, Jan McLoughlin, said: "Warrior's gallantry and devotion to duty throughout WW1 reflects the bravery and sacrifice shown by the millions of horses, dogs, pigeons and other animals engaged in the Great War. That is why he is a worthy recipient of this very special honorary PDSA Dickin medal ? the first and only of its kind"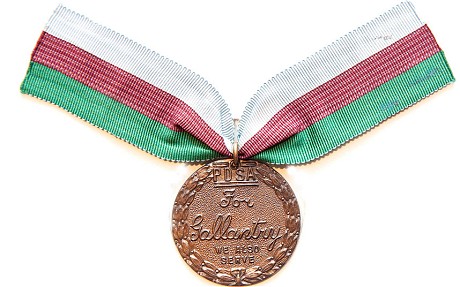 Below, statue of General Jack Seely, astride Warrior, unveiled on 9 July 2014 by Brough Scott (sculptor, Philip Blacker) Loaned to English Heritage for the duration of WW1 Centenary, to accompany Carisbrooke Castle Museum's exhibition - "Men and Horses Go to War".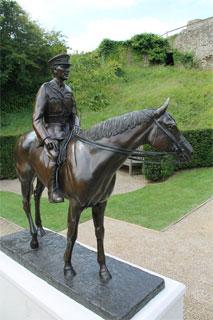 Remembering the Carrier Message Pigeons in the Field (1914 - 1918)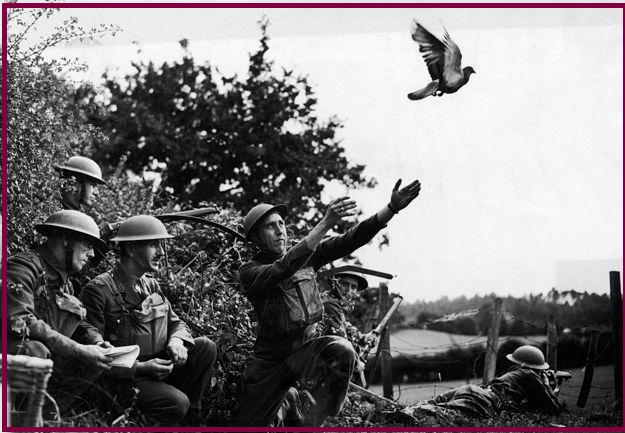 Remembering the Messenger and Casualty Assistance Dogs in the Field (1914 - 1918)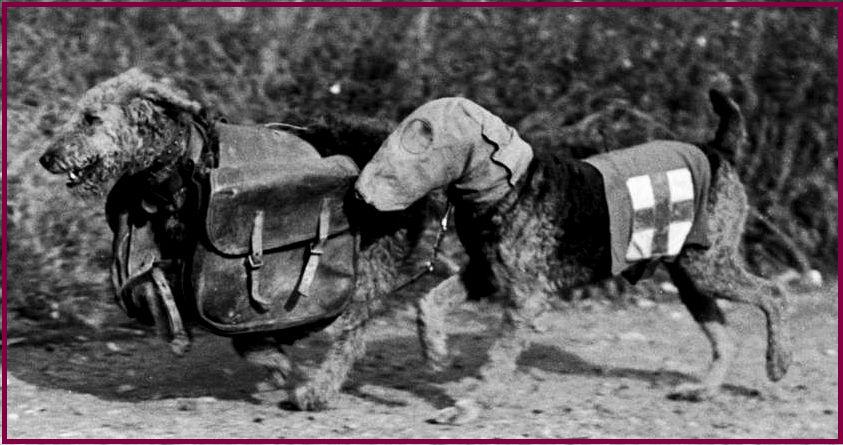 Remembering the Military Support Dogs in the Field (1914 - 1918)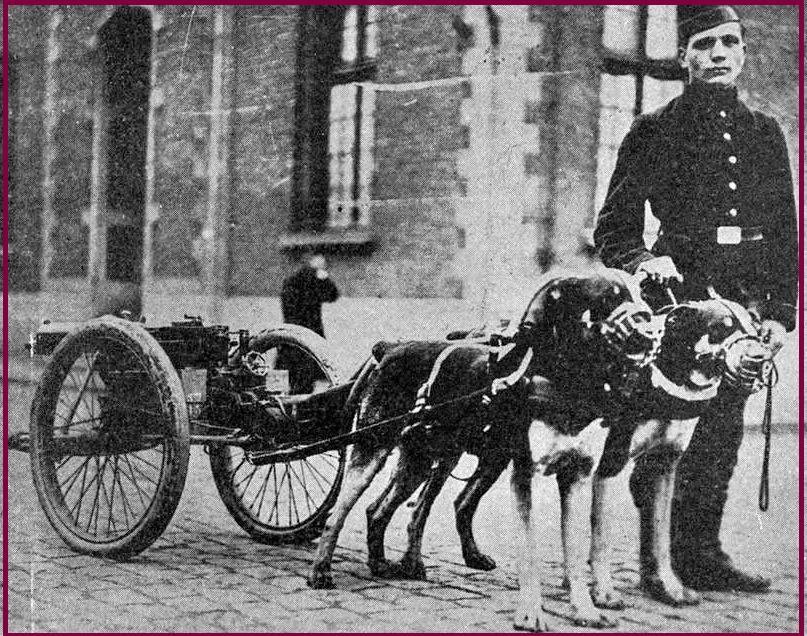 Remembering the Camels in the Great War (1914 - 1918)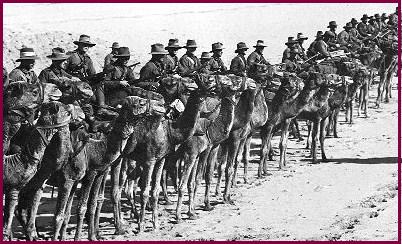 Remembering the Elephants in the Great War (1914 - 1918)
Remembering the Canary Birds and Mice (the Tunnellers' Friends) 1914 - 1918 Memorial in the Scottish National War Museum, Edinburgh, Scotland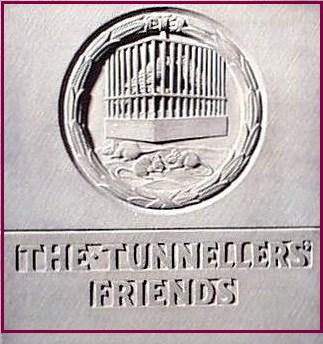 Below: Hambleton, Lancashire, (2014)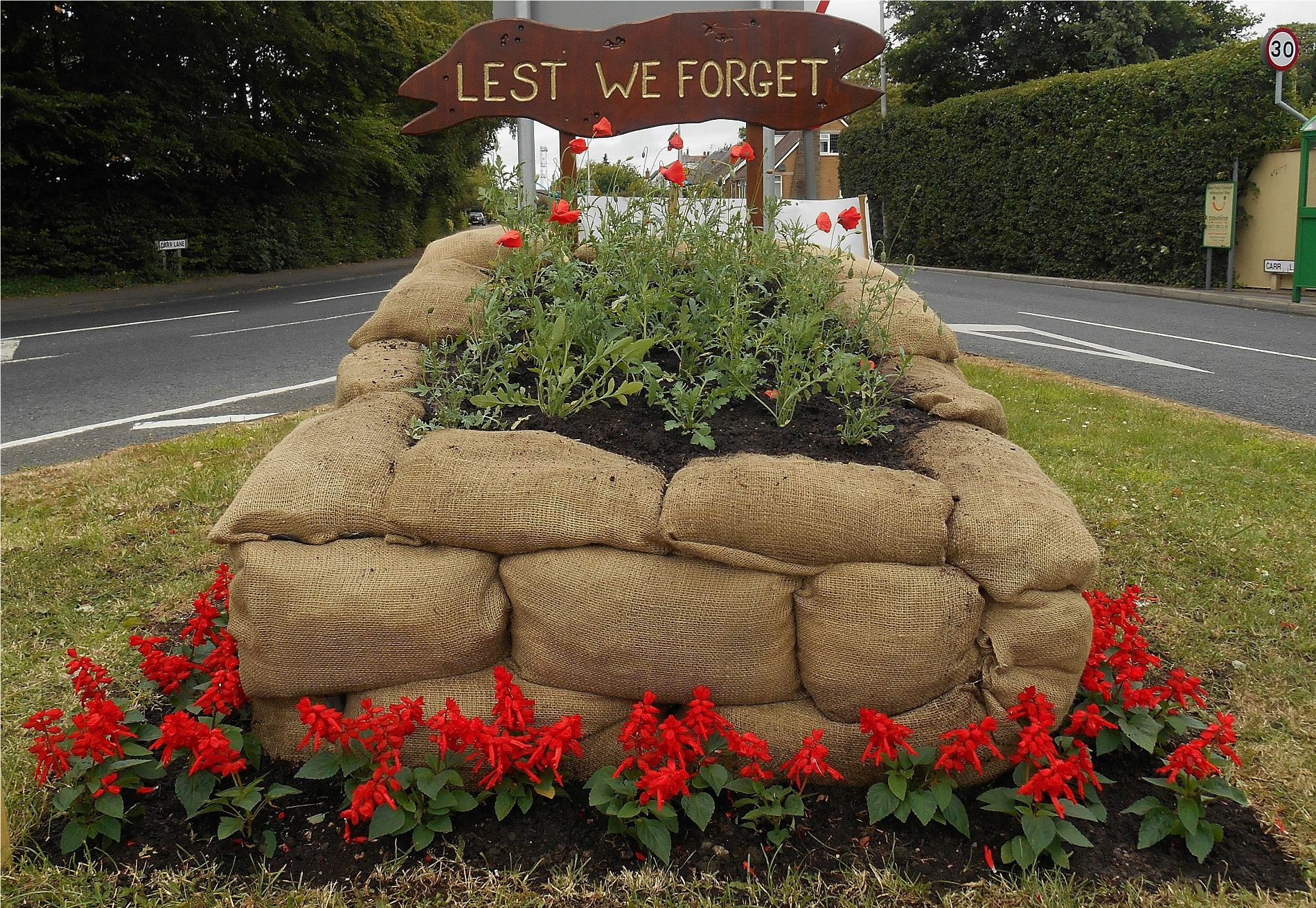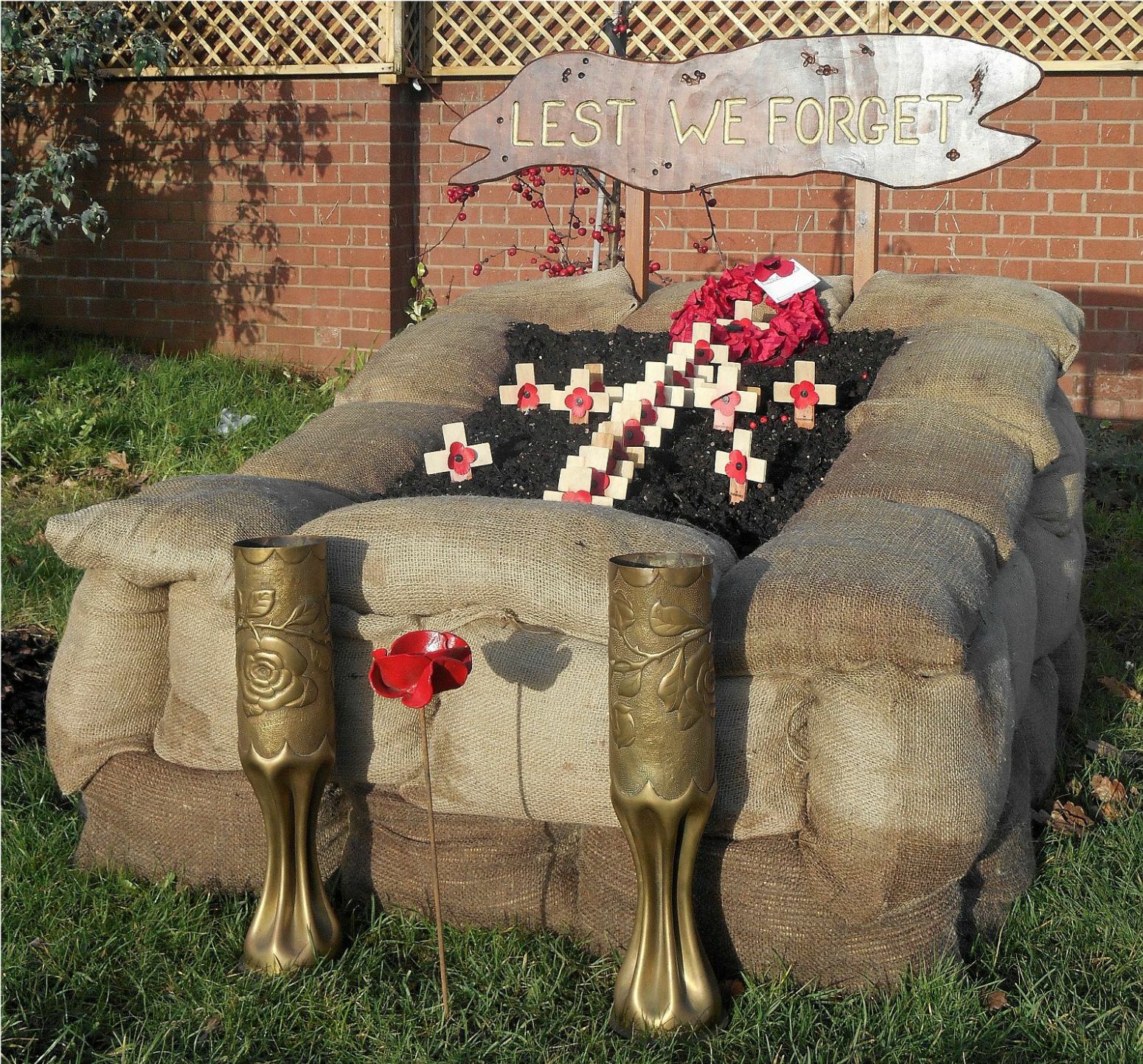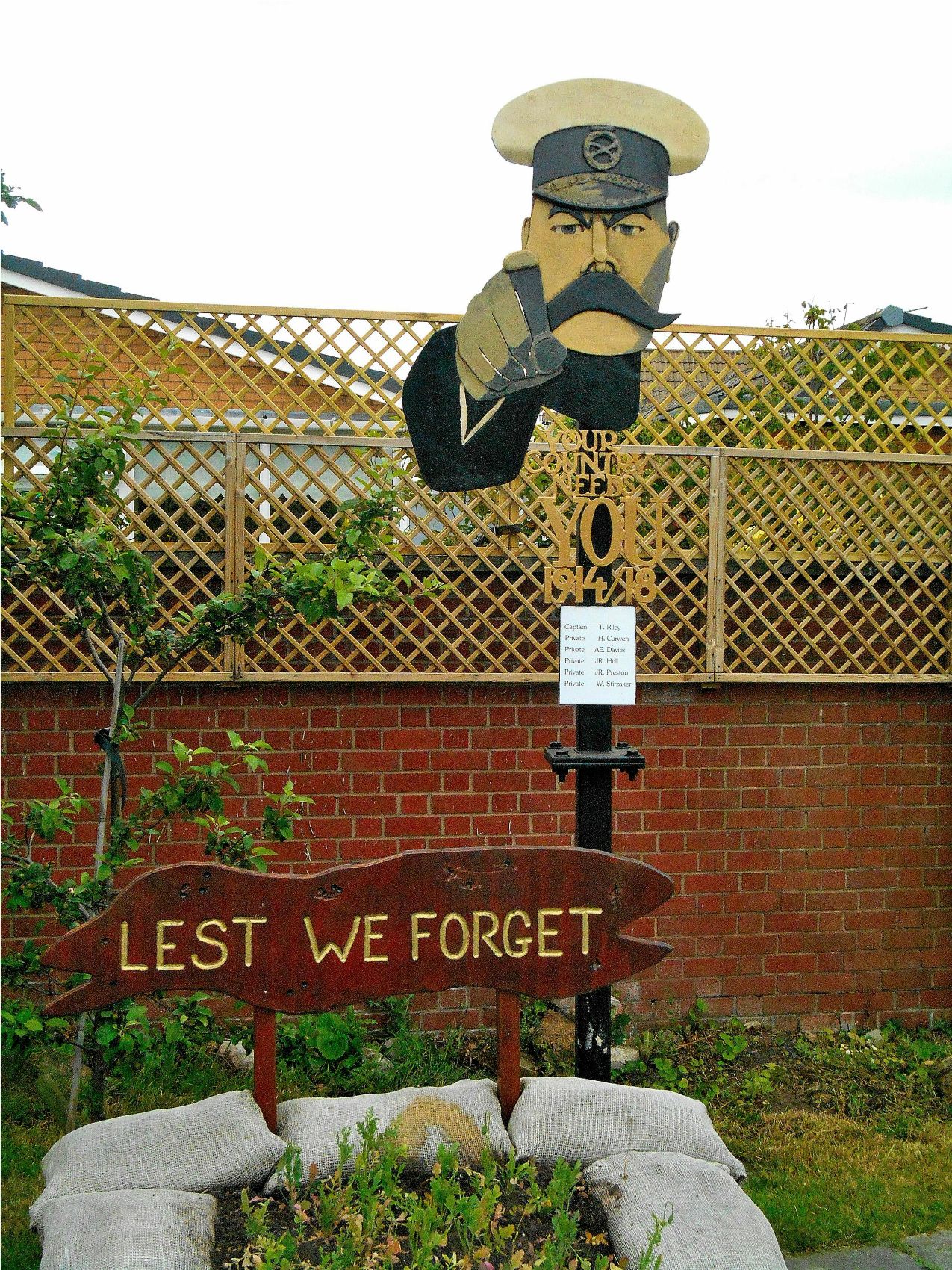 site administered by Steven Booth, England, UK
email: stevenbooth@fastmail.co.uk